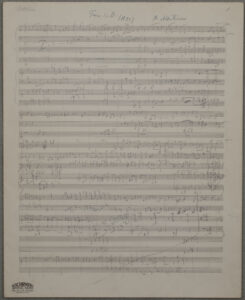 Premiered: Cambridge, Mass., 1950
Czech-born composer Bohuslav Martinů was commissioned to write his D Minor Piano Trio for the dedication of the Charles Hayden Memorial Library at MIT. He composed the piece in New York, where he resided for twelve years after the Nazi invasion forced him to flee Paris in 1941.
The Hayden Library dedication took place on May 19, 1950, a Friday afternoon. During the festivities, the trio received its world premiere in a performance by MIT professors Klaus Liepmann (violin) and Gregory Tucker (piano), with George Finckel of Bennington College on cello. Tea was then served in Hayden's handsome courtyard.


MIT owns sketches of the piano trio in Martinů's hand, dated February 26, 1950, as well the published version of the score, which carries the simple epigraph, "à MIT Cambridge."
Is the music any good? Yes indeed: it's one of the strongest works of the composer's later years. The trio's second movement has been noted for its warm intimacy, while critics have characterized the third movement as "propulsive" and called it a "fiery finale."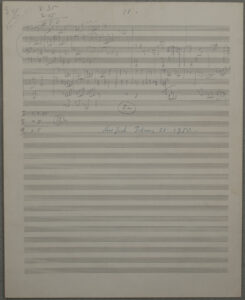 The piece is rightly placed among Martinů's neoclassical compositions. But biographer Brian Large seems to have read too much into Martinů's music, even as he misread the name of MIT's new library. In his 1976 volume on the composer, Large wrote: "The spirit of Haydn's music … pervades the Piano Trio No. 2, written to celebrate the opening of the Haydn Library in Cambridge, Massachusetts." Oops.
Then again, maybe the spirits of both Haydn and Hayden pervade the trio.
Listen to the opening of the third movement.