Published: Cambridge, Mass., 1946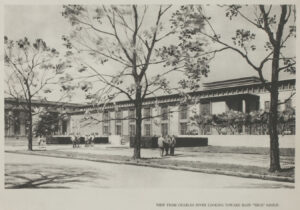 "In the applications of technological process to intellectual expansion, there lies a natural field of leadership for MIT. Accordingly, the Hayden Library will provide a laboratory in which these and other processes can be explored." – The Charles Hayden Memorial Library, p. 13.
These words were written with a sober but lofty confidence that epitomizes MIT at the dawn of the post-war era. Published in 1946, four years before the cornerstone of the Charles Hayden Memorial Library was laid, this oversized and amply illustrated brochure outlines MIT's ambitious plans for its central library, which continues to serve as an "integrating force" at the Institute.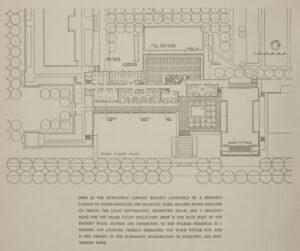 The Hayden Library inaugurated the expansion and modernization of MIT's academic facilities.  At the time, librarianship itself was in a state of transition. An "overwhelming spate" of technical literature – generated largely by the war – had to be housed, and facilities had to be updated to accommodate recent advances in conservation, storage, and photographic reproduction.
Always a step ahead of the game, MIT collaborated with architect Ralph T. Walker (class of 1911) in developing a plan for the library that stressed "maximum flexibility." This meant both creating a building that allowed for potential future restructuring of the library system, and designing spaces that serviced scholarship of the humanities and the sciences with equal proficiency. It was this future orientation that allowed the library to adapt so smoothly to the staggering technological changes of the second half of the 20th century.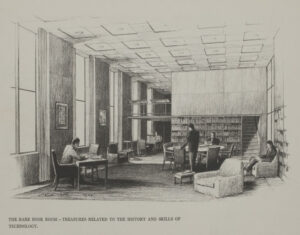 The building has adapted to programmatic changes as well. The library has always housed the humanities and science collections, as well as a music library. But a space that once served as a gallery now houses Killian Hall (a heavily-used performance venue), while an area that originally contained an open-stacks facility is now firmly secured, and houses the unique historic materials administered by the Institute Archives and Special Collections.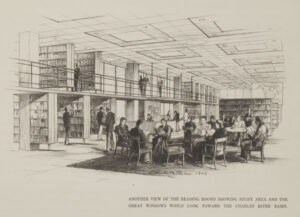 At the brochure's end, several desiderata – desired "essentials" – are included, some of which came to be, while others did not.  Gifts are solicited – with dollar amounts ranging from $1000 to $250,000 – for a film collection, a print room, a research laboratory, and a fully staffed "treasure room" for rare book collections. (And please let it be noted that donations to the Libraries are still welcome!)