Published: Chicago, 1941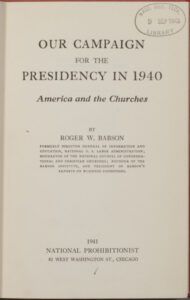 When we think about third parties in US politics, the organizations that most often spring to mind are the Green Party, the Libertarian Party, or perhaps the Constitution Party. Fewer of us are aware of the Prohibition Party, even though, having been founded in 1869, it remains the third-oldest active political party in America. It was as a Prohibition Party candidate that one of MIT's noteworthy alumni ran for President of the United States.
Roger W. Babson (1875-1967) graduated from MIT in 1898. He found success with his Babson Statistical Organization, a firm that collected and analyzed information on bonds and securities. Babson viewed stocks in a Newtonian light, and believed that good times in the stock market would inevitably be balanced by bad times. A month before the Wall Street crash of 1929, Babson warned attendees at the Annual National Business Conference that "sooner or later a crash is coming, and it may be terrific."  Such insight helped ensure that Babson would became a millionaire.
He went on to pursue politics.  Following a term as the assistant secretary of labor under Woodrow Wilson, Babson ran for president in 1940 as the National Prohibition Party candidate. Our Campaign for the Presidency outlines "the lessons learned" by Babson during his campaign.
The Prohibition Party ran on a platform stating that liquor was one evil among many to be avoided, and calling for a "spiritual revival which will change the hearts of men." In a speech, Babson cited the need for education reform:
Our schools are teaching "cheers" rather than "chores"; they are giving more attention to football, bands, and parties than to the "three R's" which are fundamental to successful employment … Our entire public school system must be reorganized … This, however, requires that we parents must demand for our children discipline, rather than diplomas, –work rather than play.
Babson's moral convictions were strongly held. During the Great Depression he was so eager to communicate the importance of the tenets he valued so deeply that he literally carved them in stone. He hired workers to carve mottos – such as "keep out of debt," "help mother," "if work stops, values decay," and "get a job" – into boulders in the
Dogtown Common in Essex County, Massachusetts. Today those boulders, this book, and the campuses of Babson College and Webber International University (both founded by Babson) all stand as reminders of the man's ideals.
MIT's copy of Our Campaign was a gift from Babson himself, donated as a Friends of the Library gift in 1943.