Published: New York, 1935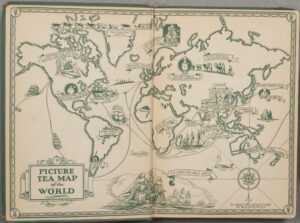 In 1901, 27-year-old William H. Ukers worked as an editor for The Spice Mill, the in-house magazine of the Jabez Burns coffee company.  Taking note of a growing trend, he suggested to his boss that the magazine expand to become a trade journal.  The boss dismissed the idea, Ukers summarily quit, and the rest is coffee and tea history – literally.
As legend has it, Ukers started The Tea and Coffee Trade Journal that very day.  He would devote his entire career to the journal and its publishing imprint, which fused up-to-date reportage with historical and scientific analysis.  All About Tea is the fruit of his mini-empire.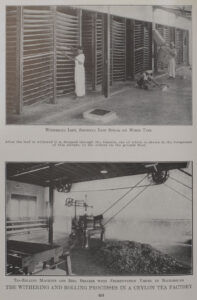 In this book, Ukers examines the tea trade from the ground up, just as he had done in his first book, 1922's All About Coffee (also in MIT's collections).  His research led him to Brazil, Sumatra, Colombia, India, China, Japan, and the ports of Africa, Europe, and the Americas, often for months at a time. Between the two books, he published the "Little Journey Series," several short travelogues that detailed the trade in individual countries.
All About Tea has continued to sell, and was reprinted as recently as 2007. A two-volume set, MIT's copy is a first edition, generously illustrated with photos, drawings, portraits, and other curiosities – long-since vanished tea labels, trademarks, and annotated maps. The Tea and Coffee Trade Journal and its online companion Ukers' International Tea and Coffee Buyer's Guide are still published in print and online, and remain the industry standard.