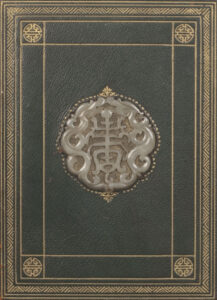 Published: New York, 1928.
Walk into any rare book library and chances are the librarian could retrieve a modest selection of fine leather bindings. Made from materials of the highest quality and crafted by expert hands, these bindings are generally found on books befitting such special treatment – literary landmarks, important first editions, and unique manuscripts are good examples. It's much less common, however, to see a fine binding on an ordinary Funk & Wagnalls English language dictionary from 1928.
This particular dictionary was bound for and sold by Yamanaka & Company, a prestigious international firm specializing in Asian art and antiquities (the Rockefellers were among their major clients).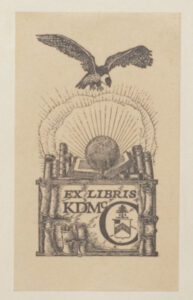 The book is bound in green goatskin, generously tooled in gold, and lined with silk doublures. Not atypically in a Yamanaka binding, a jade carving has been set into the front cover, betraying the company's Asian expertise.
Although this dictionary never graced the shelves of John D. Rockefeller, it did wind up in the hands of someone else with a heart for philanthropy: the custom bookplate suggests it belonged to Katharine Dexter McCormick (class of 1904). A suffragist, a committed advocate for women's education, and a centrally important figure in the development of birth control, McCormick was also a major MIT benefactor.
Her most important gift to the Institute was McCormick Hall, dedicated in the 1960s. Named for her husband and the first dormitory for women on the Cambridge campus, the hall's opening led to an immediate and very sizable increase in the representation of women among MIT undergraduates.
A woman of distinction and substance, McCormick also had flair. The book was most likely a gift, but it's pleasant to think of this accomplished woman turning even so mundane a task as consulting the dictionary, into an exercise in high style.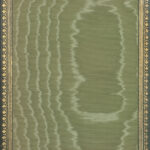 Find it in the library