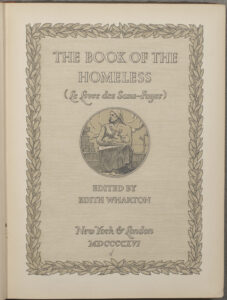 Published: New York and London, 1916
Edith Wharton (1862-1937) was among America's foremost novelists during the first third of the 20th century, and several of her books continue to be both widely read and highly esteemed. Among them are The House of Mirth, The Custom of the Country, Ethan Frome, and The Age of Innocence (for which she won the Pulitzer Prize).
Wharton spent the last three decades of her life in France. During World War I, horrified by the devastation being visited on civilian populations, she worked tirelessly on behalf of orphans and refugees. She visited the front lines, oversaw refugee hostels and, in an effort to encourage U.S. involvement in the war, furiously wrote essays describing the nightmare. She arranged benefit concerts and art auctions, and even held rummage sales.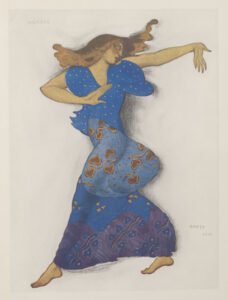 Having amassed considerable personal wealth through her writing, and having developed longstanding, close relationships with writers and artists across Europe, Wharton was well positioned to spearhead a publication that could be sold to generate money for the benefit of a traumatized wartime populace in her beloved France. The Book of the Homeless consists of contributions from many of the most celebrated artists, authors, and composers of the day, and its sale raised considerable funds for the American Hostels for Refugees and the Children of Flanders Rescue Committee.
Of the numerous distinguished contributors, Wharton could count as personal friends and acquaintances the likes of Henry James, Jean Cocteau, Max Beerbohm, Leon Bakst, John Singer Sargent, and Edmond Rostand. Other contributors included Pierre-Auguste Renoir, Claude Monet, Thomas Hardy, Joseph Conrad, Igor Stravinsky, Edwin Blashfield (whose murals grace MIT's Walker Memorial), and even Sarah Bernhardt. The book's introduction was provided by former U.S. President Theodore Roosevelt.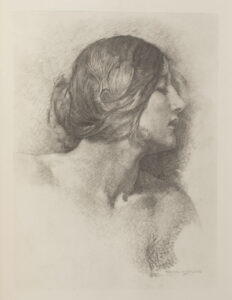 All of them brought what they could to the project: poems, essays, drawings, statements of support, music scores. Other books have been assembled for similar purposes, but few can boast contributions from such an array of luminaries.
The people and the government of France were of course extremely grateful to "Mme. Wharton" – so much so that before the war had even ended, she was named a Chevalier de Légion d'honneur, the highest honor the President of France can convey on any civilian.