Published: New York, 1913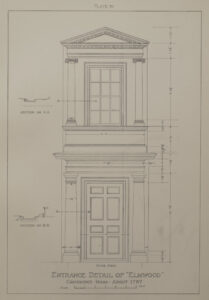 Books made up of scale drawings of architectural details aren't unusual, and MIT owns many such publications. This particular title is notable first because it's a fine example of the genre. It also happens to contain details from some historic houses that are right in Cambridge, not far from MIT. But the book's creators are noteworthy as well.
Lois Lilley Howe was born in Cambridge and attended the School of the Museum of Fine Arts in Boston. She then studied architecture at MIT (class of 1906), after which she went on to open the first architectural firm in Boston to be founded by women – and made it a success. Among numerous other accomplishments, Howe was the first woman elected to the American Institute of Architects, and in 1931 became the first woman to be named a Fellow of the organization.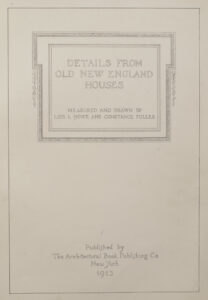 To produce Details from Old New England Houses, Howe teamed up with Constance Fuller, several years her junior, who was still studying architecture at MIT when it was published. Rare is the student who can list publication of such a substantial volume among her extracurricular activities.
The book received a positive notice in the Architectural Record and it's easy to see why. Howe and Fuller's work on "Elmwood," for example, is both exquisitely detailed and exceptionally legible.
The information conveyed in the renderings of stairs, banisters, railings, paneling and pilasters is so substantial that the drawings could be used to create three-dimensional copies in wood. Howe and Fuller are also venturesome enough to capture certain elements that aren't attached to the building proper: components of distinctive furniture and even handsome fences are rendered beautifully by the expert hands of Lois Lilley Howe and Constance Fuller.