Published: Chicago, 1909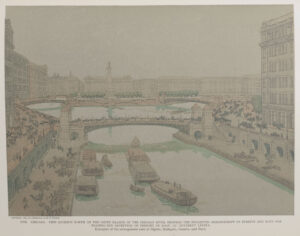 After successfully managing the construction of the 1893 Chicago World's Fair, Daniel Burnham made a name for himself as one of the premier city planners in the United States. His Plan of Chicago, developed with Edward H. Bennett, remains a landmark in the field. The Plan proposes a number of extraordinary ideas, some of which have been forgotten, others that have left their mark on the Chicago cityscape. Few tourists, for example, fail to visit Navy Pier. But did you know that this popular attraction is just one of a pair of piers that Burnham and Bennett proposed to flank the Chicago harbor? Or that the vast Chicago shoreline, now reserved for public use, was the brainchild of these two forward-thinking planners?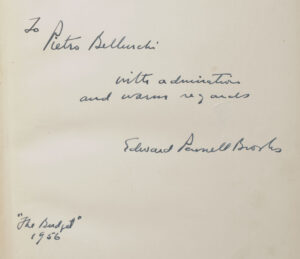 Many of the 1,650 copies originally published wound up in the hands of prominent planners and architects. MIT's copy is no exception: Edward Pennell Brooks, founding dean of the Institute's Sloan School of Management, has inscribed this copy to Pietro Belluschi, former dean of MIT's School of Architecture and Planning, and noted architect in his own right (he is most famous, perhaps, for his hand in designing the MetLife building in Manhattan).