Published: New York, 1903
"There are two superpowers in the world today …  There's the United States and there's Moody's Bond Rating Service. The United States can destroy you by dropping bombs, and  Moody's can destroy you by downgrading your bonds. And believe me, it's not clear sometimes who's more powerful" – Thomas Friedman on PBS' NewsHour, 1996
John Moody (1868-1958) was a pioneer in bringing financial information and analysis to the investment world. In 1900 he published his first edition of Moody's Manual of Industrial and Miscellaneous Securities (shown below) which provided investors with background and basic statistics on US company stocks and bonds. The success of this compact yet comprehensive volume led to subsequent annual editions; by 1903, "Moody's Manual," with its title slightly changed, had become an indispensable tool for bankers and investors seeking to invest their dollars wisely.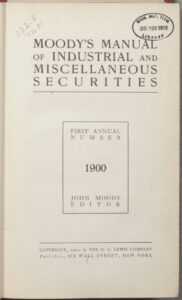 Moody's manuals continued to grow in size and scope (and popularity) as the stock and bond markets expanded, eventually adding analyses, company histories, and financial statements to each company entry and encompassing all industries in US and international markets. The organization and naming of manuals has also evolved to reflect the changing economic and business climates. As the railroad industry became less dominant and more industries and companies were born, Moody's Manual of Railroads and Corporation Securities (as it was known in 1909) was divided into multiple separate tomes covering all manner of investments, such as a Transportation Manual, Industrial Manual, Bank & Finance Manual, Municipal and Government Manual, Public Utilities Manual, and others.
John Moody's publishing company came to be known as Moody's Investors Service and, in addition to publishing the manuals, developed a credit rating system whereby the bonds of companies and municipalities are assigned a letter grade based on the entity's stability and likelihood of repaying its bond investors. Today, Moody's ratings (and those of other ratings issuers who followed Moody's lead) are a major determinant of how easily, and at what price, companies and municipalities can raise money on Wall Street.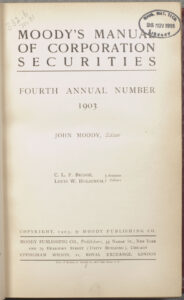 In the early 2000s, Moody's sold its manual-publishing business to Mergent, Inc, which subsequently re-branded the publications as "Mergent Manuals." MIT's collection of Moody's/Mergent Manuals – dating all the way back to 1900 – is essentially an encyclopedic history of business in the 20th and 21st centuries, covering over 50,000 companies from over 100 countries. The print editions remain available in MIT's Dewey Library, but electronic access to most Manuals since 1909 is now available to the MIT community online via Mergent WebReports.