Published: London, 1888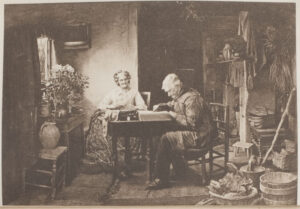 In the year of this book's publication, Lewis Mills Norton established MIT's first chemical engineering program.  It's not hard to imagine this young group of chemical engineers perhaps using their labs after hours, carefully following the authors' directions for preparing both the silver solution and the albumenized paper necessary for producing silver prints.
But the authors' pre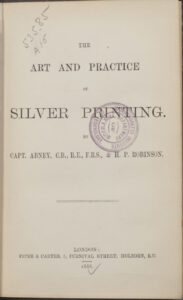 face suggests that not every photographer believed in their espoused process.  "The one defect of silver printing," they write, "is the possibility of its results fading; but surely it is better to be beautiful, if fading, than permanent and ugly. It is better to be charmed with a beautiful thing for a few years, than be bored by an ugly one for ever."
The authors' apologetic tone seems unnecessary today, since the gelatin silver process has remained the preferred method of executing traditional black-and-white photography.  Indeed, Abney and Robinson themselves contributed to the chemical advancements that have since enabled the process to provide both beauty and permanence.