Published: Boston, 1871
After "a portion of a diseased animal was sold at Faneuil Hall Market" in 1871, resulting in the death of a local butcher, more than a few Bostonians were outraged.  The city promptly undertook this official investigation, which focuses on the deplorable conditions under which cattle were transported and killed.
"Under the most favorable circumstances," the report reads, "they leave the train panting, fevered, and unfit to kill; under the least favorable, a regular percentage of dead animals is hauled out of the cars."  Perhaps it comes as no surprise to us today as we look back 140 years, but the report suggests that nearly all of these animals, sick and dying as they were, nonetheless eventually made it to market.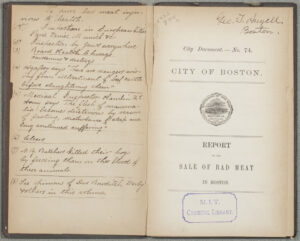 This particular copy comes from the library of George T. Angell (1823-1909). An accomplished Boston lawyer, Angell founded the Massachusetts Society for the Prevention of Cruelty to Animals. New England's largest small-animal hospital, Angell Memorial, in Boston, is named in his honor. Angell has underscored numerous passages throughout the text, and has even outlined an argument, as he writes it, "to prove bad meat injurious to health."